Thrust boring is a method to make a horizontal bore usually under the road, shallow river, or railways from launch shaft to target shaft. Our boring method use the combination of water flush and thrust boring which be able to works in almost any kind of soil.
Capabilities:
Water & gas service lines & conduit installation
Bores up to 120 m
Bores diameter from 98mm to 800mm
Thrust capacity 16 tons, pullback 8 tons
Boring method combination of water flush, continuous auger, and thrust boring
Working for almost any kind of soil
Work Process
Pilot Hole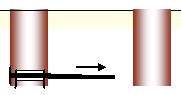 The pilot pipe is jacked and rotated through the soil until it reaches the target shaft. At the end of pilot pipe equipped with cutting bit to cut the soil. Debris transported by water flushes from drilling rod and return through the gaps between the pilot pipes and the drilling rods.
Reaming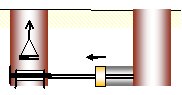 Drilling guided by pilot pipe lay precisely on target line. The soil will cut by bits and the debris will transported by water flush. This work could be started from launch pit by push-in method or from target pit by pull-in method. This process continues until the drilling bit reaches the target shaft.
Cleaning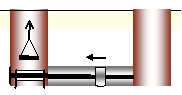 After the desired hole has been achieved and the reamer has passed through it completely, a mud pass or packer reamer will be done to assure that the hole is clean of all excavated material and that the drill fluid has filled the hole completely, to allow for a smooth lubricated pull back of the pipe, avoiding friction of the pull section.
Product Pipe Installation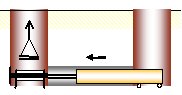 Product pipe connected with the pilot pipe or steel rope at target pit and pull to the launch pit. Product pipe should be prepared before the drilling operation and placed on supporting table. Product pipe or casing pipe might be installed in the hole enlarged process by pull-in method.
Boring Machines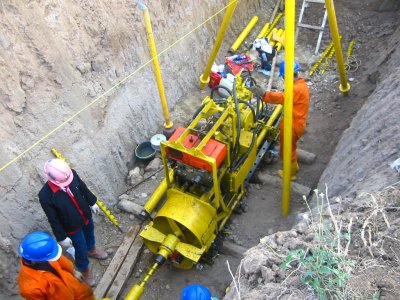 16" thrust boring at Cilegon - Banten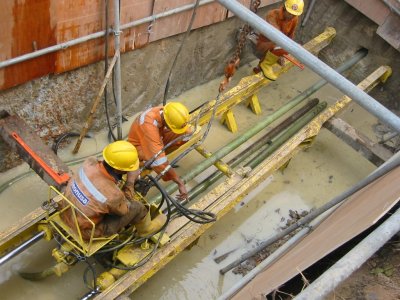 12" thrust boring at KDL