The objectives of the soil investigation services is to investigate geological and geotechnical condition for various purposes such as foundation design, mining exploration, slope stability, road building, etc. Our service covers coring and non-coring drilling and in-situ testing such as Standard Penetration Test (SPT), Cone Penetration Test (CPT), Field Vane Shear Test and Permeability Test. Disturbed and undisturbed samplings taken from the borehole are analyzed at our soil laboratory for soil index and engineering properties such as water content, density, particle size grading, Atterberg limits, specific gravity, unconfined compression test, triaxial test, direct shear test, consolidation, etc
FIELD INVESTIGATIONS
Shallow Penetrating Sampling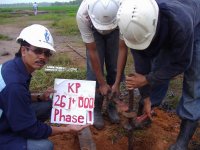 Boring test using hand auger boring with 'continues coring' method by 73 mm core diameter. Undisturbed sample taken for laboratory test by using thin wall shelby tube with 70 mm diameter and 70 cm length.
Standard Penetration Test (SPT)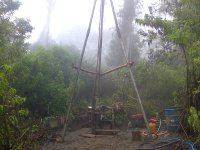 SPT procedure and equipment follow ASTM D 1586-84, "Standard Method for Penetration Test and Split Barrel Sampling of Soils". The resistance of soils is represented by the N-value. The number of blows of hammer striking drilling rod to cause 3x6" penetration of the split spoon at the tip into the soil is counted. The total number of blows for the last 2 x 6" penetration is called N-value. The test results are recorded in the boring log.
Dutch Cone Penetration Test (CPT)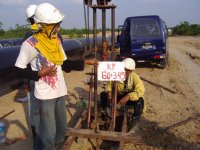 The cone penetration test can be used to obtain continuous profiles with depth of cone point resistance, sleeve friction and, in more recent devices, pore pressure. Appropriate, interpretation of this data enables the following to be estimated; soil profile, relative density (of sand deposits), soil strength, soil stiffness, soil permeability or coefficient of consolidation, pile skin friction, pile end-bearing capacity.
Boring & Sampling of Soil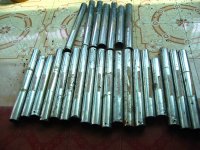 Undisturbed sampling follows ASTM D 1587-83 "Standard Practice for Thin-Walled Tube Sampling of Soils". An undisturbed soil sample is taken from a specified depth by using a shelby tube sampler (a thin walled tube sampler). Subsequently the soil sample is protected against shock, vibration and change in moisture, in order to maintain the soil structure and physical composition to be as in original conditions, until is extruded to be tested in the laboratory. Depth to top of sample and the length of sampler are recorded in the boring log.
Others Field Investigation Test
Plate grade Modulus (K) CBR,
Field density (Bulk & dry),
In-situ Vane Shear
Permeability Tests
SOIL MECHANICAL LABORATORY TEST
Works of laboratory consist of testing to undisturbed samples or disturbed samples taken away from site. Intention of this work is to know the nature of mechanic and physical of soil. Testing of soil in this laboratory is executed pursuant to testing standard according to American Society Testing Materials for (ASTM) or American Association State Highway Transportation Officials and of (AASHTO), while soil classification standard pursuant to standard of Unified Soil Classification System (USCS). Soil laboratory works including,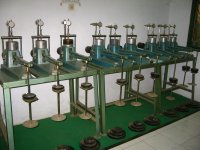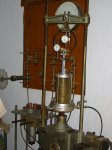 Testing of nature physical soil:
Classification and Index Properties
Moisture Content, Unit Weight (Density)
Particle Density (Specific Gravity)
Particle Size Distribution (Sieving and Hydrometer)
Dry Density and Moisture Content Relationship
Atterberg Limits (Liquid Limit, Plastic Limit & Shrinkage Limit)
Testing of engineering properties of soil for applicable samples:
Unconfined Compression (UC)
Unconsolidated Undrained (UU) Triaxial Compression
Consolidated Undrained (CU) Triaxial Compression
Consolidated Drained (CD) Triaxial Compression
Direct Shear (Undrained and Drained)
Oedometer Consolidation
California Bearing Ratio (CBR>
SOIL ANALYSIS WORKS
Analysis works including data calculation, analysis and evaluation to prepare a recommendation which is including,
Foundation system plan
Bearing capacity analysis
Settlement analysis
Soil improvement recommendation