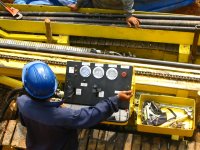 PT. GEONUSA UTAMA is a service company specialized in providing Thrust Boring, Seismic Shothole, Soil Investigation, Minipile, Deep Water Well, Groutings, Soil Nailing, Ground Anchor, Laboratory & On-site Testing, Geotechnical Design & Analysis and Topographic Survey services
To be a trusted solution for your peace of mind is our true ambition. Thatís why we focus to ensure safety at workplace, continuously enhance our delivered quality and maintain productivity to meet your tight schedule.
We believe safety can be improved through awareness and risk reduction. With teamwork and safety so critical on the job, our personnel look out for each other every day. A site safety culture is instigated prior to work commencing and is developed throughout the course of project execution.
By applying best practice and the right technology we strive to deliver superior results to meet customer satisfaction. Best quality is achievable through on-the-ground expert personnel and well maintained top quality equipments. Our employees are committed to working with our customers to create the highest level of added value.